Interior Design Companies in Dubai:
Elevating Spaces with Style and Sophistication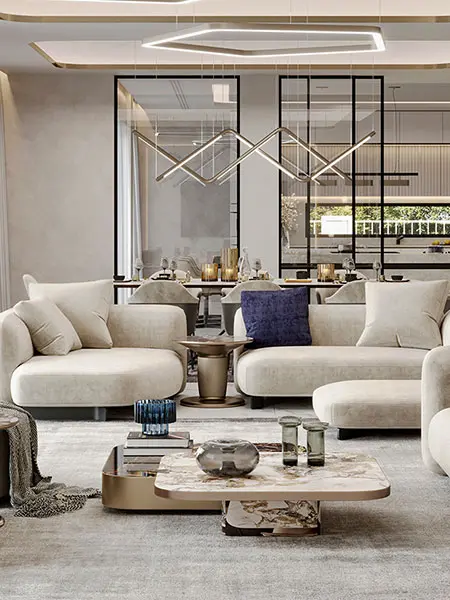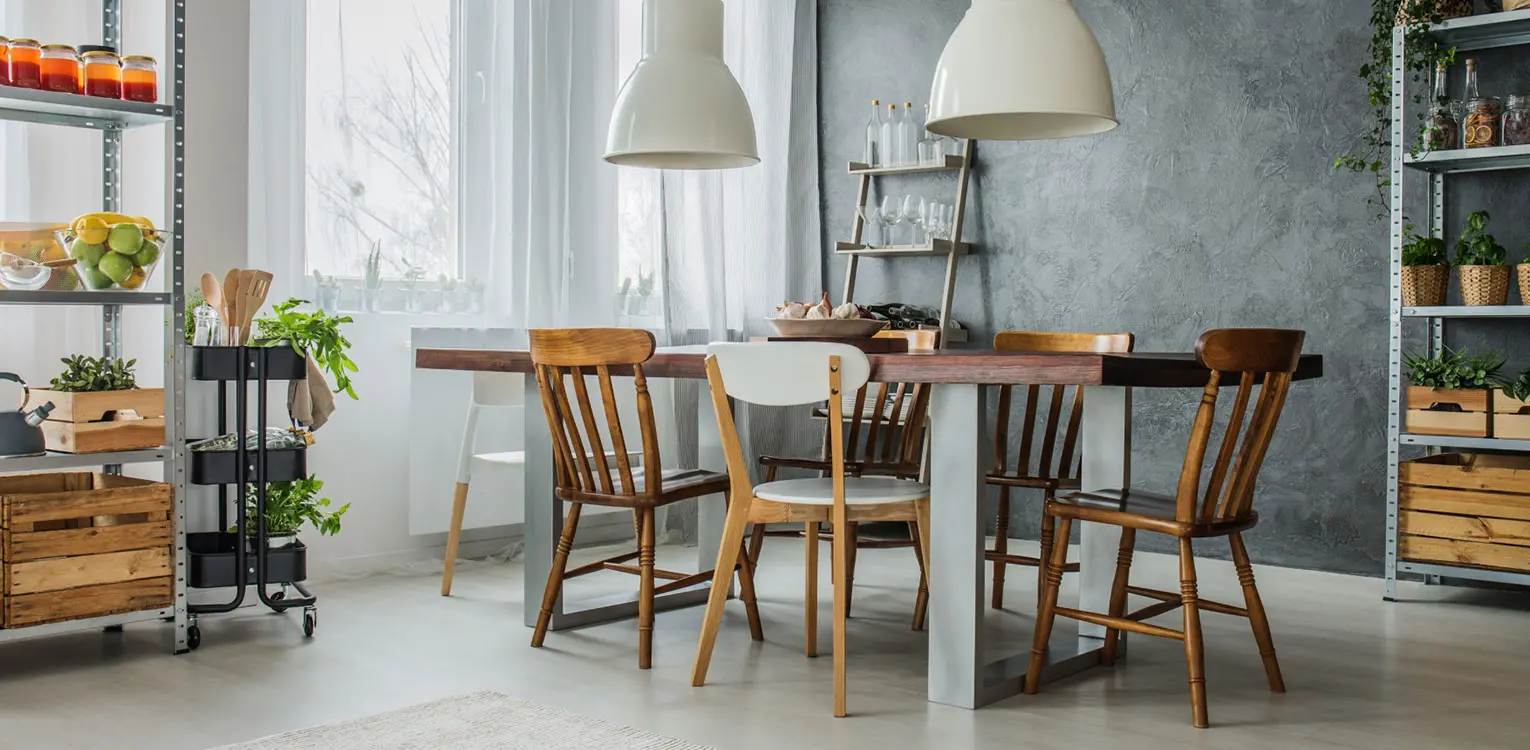 Dubai is one of the most flamboyant and lively cities in the world, known for its jaw-dropping architecture, lavish lifestyle, and cosmopolitan culture. This has given rise to a booming interior design industry to serve the modern and diverse styles of its inhabitants and visitors.
Over the last couple of decades, Dubai has witnessed dramatic growth in urban development, such as the construction of timeless high-rise buildings, restaurants, retail stores, apartment complexes, and holiday destinations.
It has exponentially increased the demand for interior design services in Dubai, making Dubai a center for fresh and unique design solutions. Creativity and architecture are changing the way citizens go about their lives in the city.
The interior design industry in Dubai is linked to the overall performance of the Emirate's economy. The United Arab Emirates enjoys /ua 40% pie of the interior design GCC market./u
UAE's interior design industry is forecasted to rise from /uUSD 3.14 billion in 2023 to USD 4.36 billion by 2028/u at a compound annual growth rate of 6.79% from 2023 to 2028.
Dubai's interior design industry is affected by the extravaganza reflected everywhere in the urban areas of the Emirate. Many international interior design agencies and famous designers have offices or participated in projects in Dubai.
The city's cultural diversity has also impacted its interior design industry, which has taken elements from conventional Arab, Asian, Mediterranean, European, and modern design aesthetics.
Let's look at how /binterior design companies in Dubai/b can beautify spaces with grace and innovation.
Importance of Interior Design in Enhancing Living Spaces
Interior design can change the overall ambiance of a home or any other space and lift the moods of its inhabitants. Here is why we think interior design is crucial for improving living spaces.
Visual Appearance
Interior design aims to create attractive and peaceful spaces. Carefully picked hues, patterns, furnishings, and textures can turn a monotonous room into a visually appealing and welcoming atmosphere, amplifying the overall look of the living area.
Functionality
Interior designers give special attention to the functionality and layout of a house, ensuring that it fulfills the requirements of the inhabitants. Beautifully designed living areas make the best use of the space to make moving hassle-free and efficient.
Personalization
Interior design enables people to show their tastes, likes, and culture through their homes. Bespoke design aspects and decor vibe off warmth and belonging, making the place feel like a home.
Emotions and Mood
Gorgeous interior design can boost a person's mood and emotions. Well-designed spaces can help residents feel peace, warmth, and love while poorly designed ones can cause displeasure and tension.
Innovation and Creativity
Interior designers are some of the most creative people on the planet. Their job let them leave their creativity without reins to find inventive design solutions. Interior design is discovering new materials, approaches, and methods to develop awe-inspiring and distinct rooms or homes.
Optimization of Space
The magic of interior design can make smaller rooms feel bigger and larger ones more intimate. The trick lies in smartly using multipurpose furniture and storage solutions to optimize functionality without affecting appearance.
Health and Safety
Lighting, ergonomics, and ventilation are parts of interior design that promote people's safety and well-being. Thoughtfully designed homes promote the circulation of air and sunlight, enhancing the emotional and physical health of occupants.
Social and Cultural Influences
Interior design is a beautiful way to express the social and cultural aspects that someone cherishes. Designers can beautifully incorporate elements that reflect the background and heritage of a family, developing a sense of belonging and community.
Enhanced Property Worth
A professional interior design can drastically boost the resale worth of a property. Prospective buyers are typically ready to pay more for visually attractive and carefully-designed houses.
To see how this plays out in one of the world's most dynamic design scenes, check out our blog on Dubai's Interior Design Industry.
Factors Influencing Pricing in Dubai's Interior Design Market
Project Scope and Complexity
Some interior design projects are more complex and larger than others so the project's scope and size substantially influence pricing. A detailed and bespoke design will need more work, time, and money, which may lead to higher costs.
Designer's Experience and Track Record
The design company's experience and reputation also matter a lot when it comes to pricing. The work of reputable interior design companies in Dubai speaks for them.
More experience and a good name in the market allow designers to charge higher fees as clients can see their strong portfolio.
Design Personalization and Idea
Conception is the hardest part of the design process. If a client is super choosy regarding design ideas and wants to customize them to their preferences, they may be charged more.
An off-beat and customized idea demands more inventiveness and diligence.
Finishes and Materials
Some customers want to use imported or high-end materials or finishes in their space's design. They should be ready to get a large bill because the costs of furnishings, decor, and materials can add up quickly.
Size and Location of the Project
Another significant factor that affects prices is the size and location of the home or office being designed. Design agencies can increase the fees due to factors such as transportation, accessibility, and site conditions.
Deadlines and Timeframes
Interior design companies need to dedicate more resources to a project with a tight deadline or smaller timeframe. This means they are losing money from other clients they might be serving, which can increase your charges.
Labor Expenses
All interior design markets are affected by manpower costs and Dubai is no exception. Skilled craftsmen and specialized contractors can command costlier prices, influencing the overall project charges.
Economic Climate
The economy affects nearly every market and the same goes for the interior design market. Economic growth means a heightened demand for services, which can increase prices.
Extra Services and Support
Some interior design companies in Dubai provide additional services such as project management, post-project support, or procurement. If you take consultation from your design firm outside of your project's scope or take any extra services, your bill will increase.
Client Demands and Affordability
The clients' expectations and budget also play a pivotal role in the project's total cost. If you are willing to stretch your budget for premium design, your charges will depend on it. However, if you can't afford more than you have initially told the designer, your charges will remain more or less the same.
Overhead and Business Costs
Design companies have set business costs and overhead expenses which play a role in the project's pricing.
Understanding the Pricing Structures of Different Companies
The pricing structures of several interior design companies may vary depending on different factors like the industry, competition, target market, the value proposition they offer, and business model.
A few pricing structures used by companies include:
Hourly Rate
In this structure, the firm charge an hourly price for their services. The rate may change depending on the credibility and experience of the design company working on the project.
Fixed Pricing
Some agencies set a fixed cost for the entire design project depending on the complexity, scope of the project, and expected number of hours required.
Percentage of Project Cost
Interior design agencies demand a percentage of the gross project pricing as their design charges.
This model usually rewards the worker to design efficiently and aids clients understand the design charges relative to the overall costs.
Value-Based Pricing
With this pricing structure, firms set charges depending on the perceived worth of their service to the consumer. This method focuses on results and perks delivered to the client instead of design expenses.
Square Footage-Based Pricing
Some interior design companies use this pricing structure where the fee is worked out by the space's area in square feet.
Subscription Pricing
Several designers provide pre-designed packages for various types of spaces like TV lounges, drawing rooms, or dining halls. Customers can select one of the packages which come with fixed charges.
Consultation Charges
Some interior design agencies ask for a separate consultation price for initial sessions and design idea discussions. This cost can be credited towards the overall project price if the customer agrees to take the company's services.
Check out our blog on Factors influencing pricing charged by interior design firms in Dubai to discover more about the factors influencing pricing and the different pricing structures used by interior design firms in Dubai.
Types of Interior Design Services Offered in Dubai
Commercial Interior Design
Commercial interior design deals with the design of commercial spaces such as public buildings, entertainment centers, malls, theaters, retail shops, etc.
However, commercial interior design has become so significant these days as we now focus on user experience and customer satisfaction as never before.
Designers need to develop ideas for retail spaces that reflect their brand doctrine and identity. Designs need to encourage consumer engagement that not only boosts purchases but also fosters a long-term customer-supplier bond.
Generation Z and millennials tend to interact more with stores that offer them happiness and contentment. They like to buy a product or service while also making a holistic relationship with the business.
Sustainable Interior Design
Sustainability is the new black these days as the concept is being applied in nearly every field from construction to interior design. Sustainable interior design refers to environmentally conscious design practices including zero ecological impact solutions to low carbon footprint ideas.
Designers aim to create effective yet low-maintenance design solutions at reasonable prices by choosing premium quality, eco-friendly non-toxic building materials.
Remember it's necessary to involve the designer from the initial stage for the highest sustainable efficacy. For example, using solar panels in place of traditional electricity sources, rainwater harvesting along with the right insulation and indigenous building materials, and making arrangements for biogas composting may aid in retaining resources.
Interior Decoration
Interior decoration is also a type of interior design that deals with using soft furnishings and home decor items with creativity. It could be pillow covers, blinds, carpets, quilts, etc.
Interior designers sometimes produce and launch their collection of home decor items while some source them out and sell vintage, handmade, or unique gems from all over the world to their clients.
Classroom Interior Design
Educational spaces have now become more than the old traditional classrooms and transformed into interior places that motivate and excite pupils to learn what they love.
Most existing classrooms are old and unable to support the latest maxims and technology. So, reputable universities, private institutes, local colleges, and schools are taking classroom interior design services to improve the educational journey.
Interior design companies in Dubai use human and child psychology, ergonomics, color theory, and other ideas to make places of learning more efficient and helpful. Institutes are now using vast ideas like fruit patches where kids care for their plants as teaching self-reliance and eco-friendliness.
Event and Holiday Decoration
It is also an emerging yet profitable type of interior design in Dubai. It refers to designing houses, commercial spaces, and particularly big, lavish restaurants for special events or holidays.
Want to explore more interior design services offered by companies in Dubai? Read this piece on Popular type of interior design services in Dubai
Examples of Residential Interior Design Projects
Modern Minimalist Apartment
Classic Victorian Home Restoration
Coastal Beach House
Rustic Country Retreat
Urban Loft Conversion
Family-Friendly Suburban Home
Electric Bohemian Studio
High-Tech Smart Home
Luxury Penthouse Suite
Sustainable Green Home
Examples of Commercial Interior Design Projects
Offices
Cafes and Restaurants
Retail Stores
Medical Clinics
Hotels and Resorts
Educational Institutions
Fitness Centers
Co-Working Spaces
Entertainment Venues
Showrooms
Examples of Hospitality Interior Design Projects
Boutique Hotels
Luxury Hotels
Resort Villas
Restaurants and Barss
Spa and Wellness Centers
Cruise Ships
Hostels
Vacation Rentals
Bed and Breakfasts
Event Venues
The Average Cost of Interior Design Services in Dubai
Residential Projects
The average cost of residential interior design services such as for a penthouse or flat, ranges from AED 75 to AED 400 per square foot, based on the project's scope and the designer's credibility and experience.
Commercial Projects
For commercial projects like retail stores or workspaces, interior designers may charge somewhere between AED 100 to AED 500 per square foot, depending on the project's scope, size, and the design company's experience.
These are just approximated costs and the actual figure can vary substantially depending on your particular project needs. Also, these charges generally include only design costs and not the expenses of furniture, materials, and decor items.
The Average Costs of Interior Design Services in Dubai for Different Project Scopes
Consultation Charges
An initial consultation with an expert at a design firm may cost ranging from AED 500 to AED 2,000 or higher, based on the company's credibility and experience.
Room or Space Redesign
For a room redesign, you may need to pay somewhere between AED 5000 to AED 15000 or higher, based on the complexity and area of the room and the scope of work.
Full Office or Home Interior Design
Many customers demand an extensive design overhaul for their house or office. The prices may start from AED 50,000 to AED 150,000 or higher. Lavish or expensive projects may charge notably higher, according to the personalization and quality of materials used.
Remodeling and Renovation Projects
These projects usually require extra construction work, which may influence the final charges. Costs may range from AED 30,000 to AED 100,000 or higher, as per the scale and scope of the project.
Factors That Determine the Overall Cost of Interior Design Project
Design Company's Credibility and Experience
As with any industry, years of experience and name in the profession substantially influence interior design pricing. Trusted interior design companies with a strong reputation and level of experience typically ask for more money than those who are new to the industry.
Extent and Complexity of the Project
The intricacy and scope of the design work also directly influence the overall pricing. An apartment's interior design would usually cost lesser than a large commercial building's design.
Projects that need bespoke design elements, distinct installations, or complicated spatial solutions may be more expensive than others.
Labor and Installation
Labor expenses for craftsmen like technicians, painters, carpenters, etc can substantially increase the costs. Installation fees for fixtures, bespoke components, and furnishings also play a role in the overall cost.
Personalization and Customized Designs
Bespoke design projects like those with tailored furniture, and distinct installations can cost higher than those which use regular design solutions because they need craftsmen and more time for artistry.
Accessories and Furniture
The costs and quality of furniture, textiles, lighting, and accessories can increase the overall pricing of the design project depending on the quality, brand, and design choices.
Location
The property's location also contributes to the design fees due to changes in material availability, market demand for interior design solutions, and labor rates.
Timeframe
The timeline and urgency of the design project may also impact charges. Projects with tight deadlines or urgent ones often need extra labor and can lead to costlier services.
Check out this blog on The average price charged by top interior design agencies in Dubai to get to know more about the typical costs of interior design services in Dubai.
Tips for Choosing The Right Interior Design Company in Dubai
Recognize Your Requirements
Before you begin to look for an interior design agency, you should define your requirements. Recognize what kind of design you are searching for, your affordability, and your timeframe.
Also, think about your likes and dislikes. Once you clarify these, you may begin finding a company that fulfills your needs.
Conduct Market Research
Once you know what you need in your interior design, compare different design firms. Go through their social media profiles and websites to check their samples and customer feedback.
You can request recommendations from your pals and colleagues who have taken interior design services in the past.
Inquire about the Company's Expertise and Experience
Interior design is a sophisticated process that needs skills and practical knowledge. Go for an interior design company in Dubai with a team of talented and experienced professionals who can get what you need and provide the best outcomes.
Also, see if they are pro in the design type you need. For instance, if you wish to design your home, find a company with experience in residential interior design.
Look at their Portfolio and Client Reviews
Before signing the contract, request the design company to show you their samples of work and reviews of their previous customers.
It will aid you in analyzing their design's quality and customer satisfaction rate. You can also go to their finished projects to check their work with your eyes.
Assess Their Collaboration and Communication Skills
Interior design needs effective communication and working with the other party to complete the project. This is why, your interior design firm should know how to communicate and collaborate with you on the project.
Understanding what type of design you want and providing something close to it to the best of your ability is the key to the success of a designer. Plus, transparency and keeping the client updated during the process is also vital.
Evaluate Certifications and Licenses
When selecting a design agency, it's crucial to check whether they possess the required certificates and licenses. It shows the agency is legally authorized to design interior spaces and that they comply with industry rules and regulations.
Think about the Pricing
Most people can't ignore the pricing of the services when choosing a design company. Look for transparent pricing where there are no hidden charges involved.
Also, compare which designer offers the best value for what they charge. Go for one that provides premium quality work at an affordable fee.
Need more actionable tips for picking a highly competent interior designer in Dubai? Discover more on our blog Tips for choosing the right interior designers in Dubai.
Evaluating Portfolios, Client Reviews, And Expectations
Evaluating Portfolios
Begin by researching design firms through social media, online platforms, and local directories. Go through their online portfolios and sites to check out their previous work.
Consider the various projects they have tackled, such as residential, hospitality, and commercial spaces. Search for design types that are aligned with your needs and priorities.
A well-maintained and versatile portfolio displays the agency's ability and diversity.
Analyze Client Testimonials
Reading customer reviews from older projects is the best way to assess a designer's prowess. Web platforms like Houzz, Google, or local directories mostly provide ratings and testimonials from consumers who have taken the design companies' services.
Check out what they have to say about the company's credibility, consumer experience, and capability to fulfill their claims.
Request References
A professional design company should be willing to show you references from their past clients. Ask these customers directly about their experience with the company, professionalism, responsiveness, ability to meet deadlines, and overall design quality.
Bottom Line
The interior design companies in Dubai have proved their dedication to enhancing spaces with grace and functionality. With a wide range of projects to their names, these companies have demonstrated their flexibility to different design types and needs, serving the distinct choices of customers in this bustling city.
The interior design industry is promising but keeping up with the Jones is crucial for design agencies. We have discussed the various types of interior design and their average costs to help our Dubai-based readers choose the design services wisely.