Tips for Choosing The Right
Interior Designers in Dubai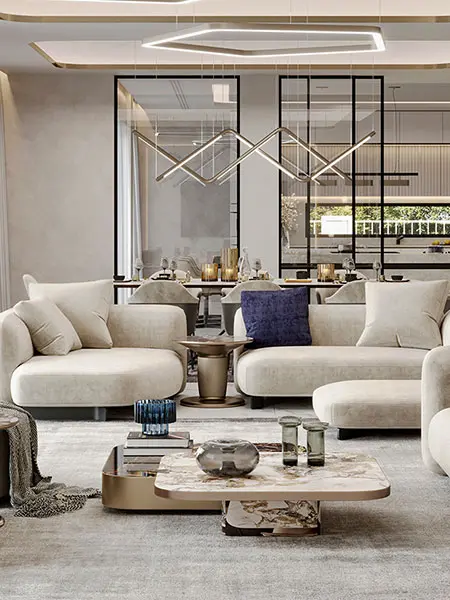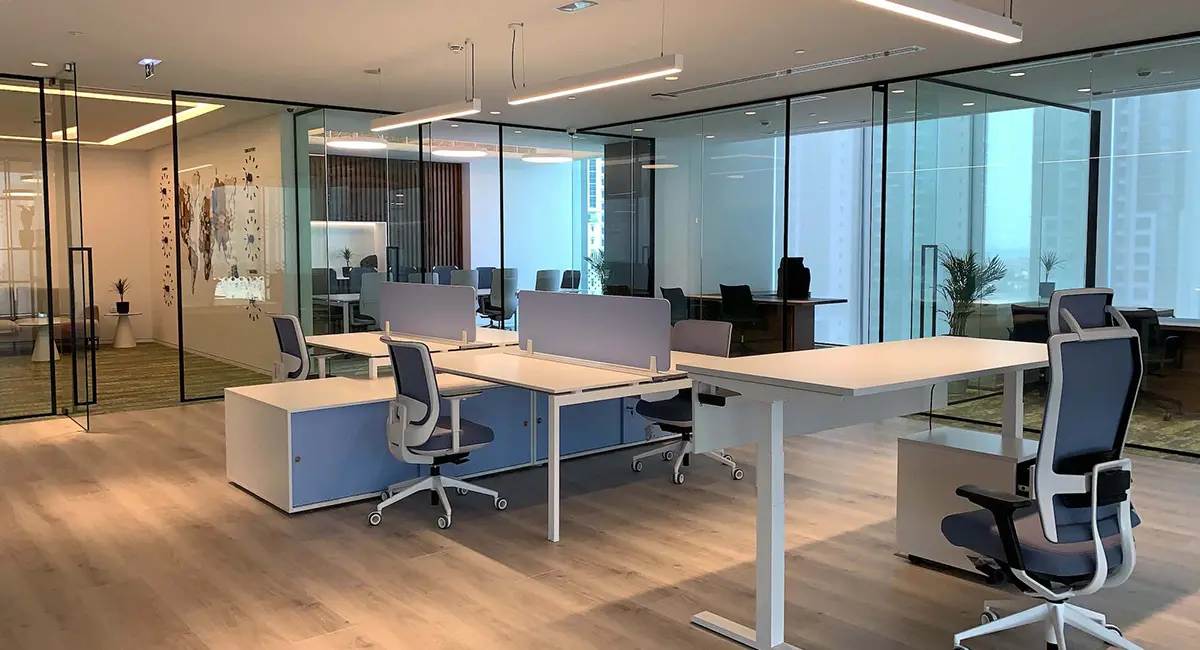 Selecting a suitable interior designer in Dubai is a critical decision that may substantially influence the result of your project. This blog will be an interesting read for you if you live in the bustling city of Dubai and need to design your space's interior.
Drawing on our experience in interior design, we share some tips for choosing the right interior design company or designer in the city.
What to Consider When Selecting Interior Designers in Dubai
Before you begin searching for an interior design firm, define your needs, likes and budget. Also, think about your likes and dislikes. Once you clarify these, you may begin finding a company that fulfils your needs. It will aid you in communicating your expectations correctly to possible service providers.
Research and Gather Options Head to the internet to search for interior designers in Dubai. Also, ask around in your circle for good designers and shortlist them. Look for companies that have expertise in the kind of project you have. Go through their social media profiles and websites to check their samples and customer feedback.
Go Through Companies' Portfolios
Interior design is a sophisticated process that needs skills and practical knowledge. Go through the websites or social media accounts of the shortlisted designers to check their work. It will provide you with an insight into their skillset, style and work quality. Also, see if they are pro in the design type you need. For instance, if you wish to design your home, find a company with experience in residential interior design.
Look for Client Reviews Read testimonials and feedback from older customers of the design companies you are considering, it may offer an idea of the designer's professionalism, capacity to complete the project in time and communication skills. Also, ask the interior designer to provide you with their portfolio.
Check Qualifications
Ensure that the design professional you hire is licensed and registered to work. Verify if they possess related credentials such as qualifications and certifications.
Schedule Meeting Meet with the shortlisted companies' representatives or professionals in person. It will offer you a chance to communicate your project's details, ask queries and measure their comprehension of your idea.
Talk about Your Affordability
Discuss your budget before you hire an interior designer in Dubai. A trusted professional or firm will collaborate with the client to develop a design strategy that corresponds with their financial issues.
Inquire about Project Timelines Ask about the approximate timeframe for the project. A well-disciplined agency should be able to give you a realistic timeline.
Effective Communication
Efficient communication is essential to make an interior design project successful. Notice how approachable the designer is or if the company's representatives try to understand your preferences and convey their ideas.
Transparency in Pricing Ensure that the design firm supplies a clear breakdown of its cost structure. Concealed charges or unexpected prices may be a big problem later on so your chosen company must maintain transparency in pricing.
Understand The Design Process
Enquire about the designer you hire for their design process. A recognized designer or company should have an organized process of design, planning and implementation.
Visit Finished Projects Try visiting a few projects completed by the interior designers in Dubai you are considering. It will help you check out their talent and experience with your own eyes and then you can decide better.
Assess Creativity
Your design company should have creative minds on their team who can create something beyond mundane. Interior design is all about innovation and bringing daring ideas to the table.
Ask about Product Choices and Material Assess the products and materials the designer intends to employ in your space's design. Check if they focus on quality and longevity.
Legalities and Agreement
Create the work agreement along with the company or professional you hire to check that it contains all the terms and conditions. Before you sign the document, ensure it documents all that matters to you.
Trust Your Instincts After visiting different designers' or firms' offices, listen to your gut feelings. It's essential you like the company or professional you hand your project over. Their work approach should align with your preferences.
Flexibility
Go for a company or designer who appreciates your ideas and addresses your concerns while also pouring their own experience and expertise into the work.
Seal The Deal Now that you have considered all the vital factors, it's time to seal the deal with the interior design company. Ensure that you read the agreement thoroughly and that it contains all the project's details, such as timeframe, charges, extent of work, and payment conditions. Write everything in the contract so that you don't get surprises during the project and both of you know what to expect.
Analyze their Post-Project Support Interior design needs skilled craftsmanship and knowledge during the design process as well as after its completion. After-sales service should be one of your top priorities when finalizing a design company. Best post-project assistance involves maintenance, warranties, and responses to the queries and issues that arise after the completion of the project.
Evaluating Portfolios, Client Reviews and Expertise to Find the Right Interior Designer in Dubai
When you start finding the right design firm for your project, a 360-degree assessment is paramount for the best outcomes. Let's discuss three crucial elements to consider when choosing a designer:
Evaluating Portfolios
Actions speak louder than words and probably this is why, interior design companies have portfolios where they show their work rather than just bragging about themselves. So, the best interior design company will happily show you the design projects they have completed for previous clients. This will give you an idea if they are the right match for the kind of work you need. Interior design is a vast field and different companies or professionals are specialists in a particular area so you must evaluate their portfolio to see if they can fulfil your design preferences.
Analyzing Client Reviews
Happy clients are the biggest advocates a business can have. Their reviews also help people who want to take the services of the company in question. Head to the designers' websites and other platforms to read client testimonials. These testimonials will tell you whether the client enjoyed working with them and whether they were approachable, flexible and understanding. The words of previous customers provide significant insights into the experiences of taking a certain designer' service. Assessing customer testimonials can offer a glance into the firm or designer's dedication, experience and trustworthiness. We recommend searching for elaborate reviews that talk about other elements as well like communication skills and project management.
Examining Skills
A designer or company's capability covers their team's talent as well as their knowledge of the latest trends, technical expertise and smooth project management. Seek out interior designers in Dubai with experience and qualifications. Ask them to show you proof of their capabilities and certifications. Experienced professionals often like to entertain tricky customers and offer creative solutions to their problems, leading to a seamless project journey.
Conclusion
By comprehensively assessing portfolios, expertise and customer feedback, you are better placed to make an educated decision. This holistic approach helps you select a design professional or firm that resonates with your design preferences, has the essential proficiencies and has a name in the market.
Also Read
The Average Price Charged by Top Interior Design Agencies in Dubai
Interior Design Companies in Dubai: Elevating Spaces with Style and Sophistication